Rob Chilson - Personal
This page provides more information about me than any reasonable person would want. It is therefore provided for the unreasonable people, on whom, George Bernard Shaw tells us, all progress depends.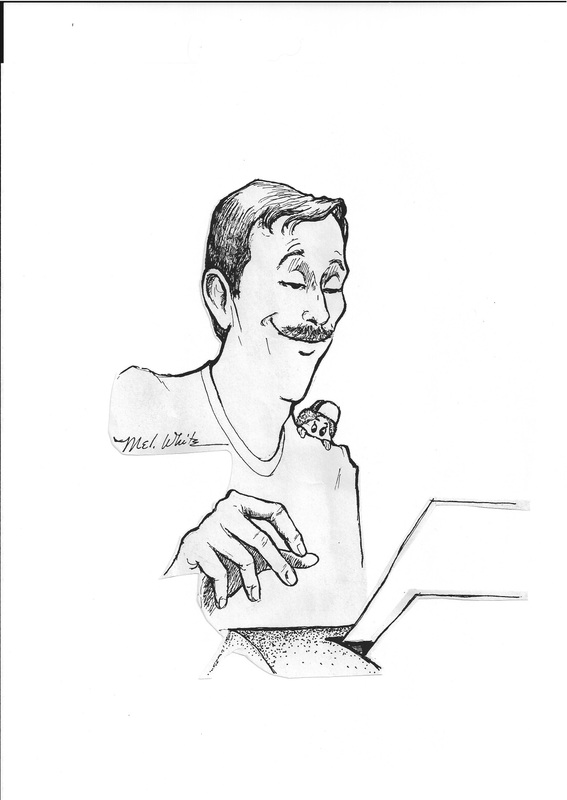 Mel White, done at OKON in the early '80's -- the hair is thinner but the goofy grin is the same…
---
Robio
I was born at home in Oklahoma, after my mother spent part of the morning hoeing in the garden. It was a pretty old-fashioned family even for that time (1945) and place. My father was a scarecrow. We subsequently moved to California, where my memories begin. I remember the first flake of snow I ever saw. (It disappeared before I got a good look at it.) Since then I've lost track of snowflakes; we moved back to Missouri (my mother's natal state) when I was eight, and I have been a confirmed Midwesterner ever since.
I decided, about age six, that I wanted to be a writer. I even wrote a couple of stories. I concluded that I was not yet ready to be a writer, so postponed it until I was grown up. At age eleven, I concluded that I now knew enough to be a writer; for instance, I now understood improper fractions. I knew, of course, that I would rarely have occasion to mention improper fractions in my stories, but I argued that my knowledge of them indicated that I had acquired a great deal of other knowledge which I could use. A sophisticated argument for an eleven-year-old. (To this day I have never mentioned improper fractions in a story.)
How did I learn to write? First, by reading everything I saw. Second, by sitting down and doing it. Throughout high school I would sit in class writing on pages at the back of my clipboard while the class was droning, or after finishing the assignment. I also read everything I could about writing -- in west central Missouri, in the country, in the 1960s, not a lot. I fondly remember, and later tracked down on the Internet and now own, Howard Pease's BOUND FOR SINGAPORE, a fictionalized account of how Pease became a writer. I also learned a bit from Kipling, from SOMETHING OF MYSELF: let the story sit for a few months or a year (a long time for a teen-ager!), then look it over. Also, go through with a brush and india ink (I substituted a felt-tip marker) and strike out adjectives and adverbs and whole needless sentences. Later I got James Blish's THE ISSUE AT HAND and MORE ISSUES AT HAND, crammed with examples of bad writing and good, drawn from the magazines of the day. I mined all ore, no matter how low-grade, and am one of the few people who seem to understand what A. E. van Vogt meant when he talked about putting in a new idea or plot twist every 800 words. ("It could be 600 words or 1000 words," he parenthetically added -- OF WORLDS BEYOND, ed. by Lloyd Eshbach, Fantasy Press, 1947) Van was talking about pacing. If you don't have an intuitive feel for it, use some mechanical method. (Developing the intuitive feel for pacing is one of the reasons you read and read and read.)
Eventually I started submitting my stories, at first to the "secondary" markets like AMAZING STORIES. Some "secondary"! Under Cele Goldsmith, it was publishing Roger Zelazny's first works, and David R. Bunch.... But I persevered, and though I sold nothing, I finally felt sufficiently comfortable to submit to the legendary John W. Campbell, Jr. at ANALOG (formerly ASTOUNDING Science Fiction).
JWC had a system of rejections designed to lead you on. The first was a printed form rejection, explaining that he lacked time to give a personal response, and that the problem with your story was either a) too complex for a short response, or b) so simple you'd see it yourself when you looked at it again. This rejection slip also gave some elementary manuscript prep advice. His second rejection was a form letter, not printed, but visibly hand-typed on an electric typewriter (no computers then), and hand signed, or scrawled, by JWC himself. The last line of this letter said, "I rather like your style and would like to see more from you." His third response was the one I eagerly hoped for: a commentary on your story. He could point out the problem with a story in a single sentence, or it might strike a spark with him, and he would go on for pages.
His fourth response was a check, and I finally got to number 4. (It was a check with no letter of commentary, and while it was for $170, the most money I'd ever had in my hands in my life, I missed the letter.) In the end, I sold a round dozen of stories to Campbell. Or at least I made a dozen sales to him; some of those early items hardly classify as stories. I hope they're never reprinted. (The bar is much higher now.)
Then one day there came a letter from the ANALOG office. It announced the death of John W. Campbell, Jr. It was like losing my father a second time.
After a while I decided to write a book, a rather daunting task, but I set myself a schedule and kept to it, and in due time finished it. It was never sold, thank God, though it did have some good stuff in it. I tried again, and sent the eventual result off to Donald A. Wollheim at DAW Books (back when they all had yellow spines). He bought it. AS THE CURTAIN FALLS was a working title, but I've never been able to think of a better one. The foreign publishers (Wollheim eagerly pursued foreign reprints) didn't like it; none of them used it -- see Robiblio. The next year, Wollheim bought THE STAR-CROWNED KINGS, a title I liked. People tell me it reads like the middle part of a trilogy. I tried to write a sequel, but I found I'd said all I had to say about that fictional world. Then I hooked up with an agent who suggested I write a time-travel story for the Laser Books line edited by Roger Elwood. Elwood turned down THE SHORES OF KANSAS (my favorite of my titles), possibly because I hinted that the hero had a sex life. Since the old Futurian days, Wollheim had been feuding with the woman who headed my agency, and did not welcome submissions from them. So it went to a now-defunct publisher.
I must add that Wollheim had a bad rep for being surly, grudging, and parsimonious, but I saw none of that. He did not pay me well, but he could not afford to, and he was always gracious to me. Years later, when I asked for reversion of rights to my books, Wollheim reverted them immediately without protest, and even sent me the office copies.
Both my parents are now long gone. My father was the last of the frontiersmen, an old man (58) when I was born, and illiterate. He could sign his name and spell out a few words, but never truly learned to read or write. It is from him I derive my large talent for words. My mother completed the eighth grade, and could read the Bible moderately well (and the King James Version is not Dick & Jane), but was not a good reader. She was color-blind, tone-deaf, and I think mildly dyslexic as well. Fortunately I inherited none of these things from her. Though writing was beyond their pale and so they could not encourage me in it much, they took me seriously and never discouraged me either. I might add that though we boys were a contentious and competitive bunch, my brothers also never ridiculed my writing ambitions -- ever. No writer could ask for a better family.
After the death of my parents I moved to the city. Till then I'd mostly lived in the country, from a child. For the first time I met science fiction fans and started going to SF conventions. SF fans are highly intelligent -- brilliance is common with them. This was very good for me; till then I'd always been the smart one. I'll always be grateful to them for shrinking my head. (My friends are even more grateful.)
Early in the '80s I met William F. Wu. I could fill this page with Bill stories, or with Chil/Wu stories, or stories by Bill, or stories by Chil & Wu. I still remember that first meeting fondly. We recognized each other, but couldn't remember each other's names. Thinking back, we realized we'd actually met in passing several times. When we had discussed everything else (what women call gossip), we finally started talking about writing. From that it was a short step to showing each other our old stories, then collaborating. Who knows what other crimes we might have done together -- but Bill found that he was allergic to me and moved to the Mojave Desert for relief. Now he only sneezes when the wind is in the East.
Robiblio tells the story; we sold everything we wrote together, and all but, mercifully, one of our stories was published. (They paid us for that one, then wised up and didn't print it. If you see either of us, ask about the sheared velour goldfish.) --I have a brother whom I love like a brother, but Bill is even closer. Meeting him was one of the more important events of my life.
It led to the formation of our writers' group, which still meets, and which has done so much to make my writing tolerable. If you enjoy my writing, you should thank Bill, and Lynette Burrows (with whom I collaborated twice), and Jan Gephardt, and especially Alison Tellure, and many others who came and went over the years. You wouldn't enjoy it so much if not for them.
In the '90s Algis Budrys took over TOMORROW magazine from Pulphouse; I sold him a number of stories. He was the second most important editor in my development. His subsequent death was like an aftershock of John Campbell's. If I were asked which was the better editor, I couldn't say. They dealt with two different Rob Chilsons.
An earlier version of this page mentioned a series of stories set 60 million years in the future; it was then called ACROSS THE STEAMING SEA. I have since finished it, under the title: THE UNDYING EARTH (it's dedicated to Jack Vance). It's now looking for a publisher. And I have a long-range project to write a series of children's books, rather like the Oz books. For consistency, I intended to write all 16 before I started offering them around, but I've begun to modify that ambition. I just hope I (and you!) live to see them in print.
ROB CHILSON'S OAQ


(Occasionally Asked Questions)
Who are you?

I've been trying to figure that out all my life. Maybe reading the stories here will give you a clue.
So, have you any claim to fame, even a whimsical one?
I've sold stories to every editor of ASTOUNDING/ANALOG since 1938, a year well before my birth.
How old are you?
When asked that, David Gerrold said only that he was on his second bottle of Tabasco™ sauce. Put me down for that, too. More seriously, I was born in 1945.
What do you do for a living, since you visibly can't make a living writing?
I resent that remark, though I don't deny it. I did a very boring but stressful job in Personnel for a large organization you hate. Nowadays I am retired. (The hours are great; the pay sucks.)
How big are you?
Depends on the circumstances.
I mean, how tall are you? Come on, you say you're a short guy.
I'm the small, economy size that airline seats are supposedly built for. (They're not.) I'm 165 centimeters tall, except in primitive backward places, where I'm 65 inches tall. Am I short? I'm over 16 hands high--how many horses can say that?
What's your education?
Formal education ended with (country) high school. Since then, wide unsystematic reading, mostly in history, military history, science, biography, and various odd subjects that bump my curiosity bone.
Hey. Farther down you say you're best known for "hard" SF of the ANALOG type (what's ANALOG type?) How can you write hard SF with just a country high school diploma?
(ANALOG type refers to the magazine ANALOG Science Fiction -- the title varies -- formerly Astounding Science Fiction. It's noted for hard-core science fiction, no fantasy, though over the years there've actually been a few fantasies in it.) As for how I do it, I don't rightly know. Of course, most hard "science" fiction is actually tech fiction. I have some feel for technology. If you know how to change the oil in your car, if you read magazines like POPULAR SCIENCE or POPULAR MECHANICS, you may be better equipped to write hard SF than you think. English and Lit courses will not help you.
So you write sci-fi. What kind of sci-fi?
I try never to write "sci-fi," which is most of what you see on tube and screen. The difference is the same as the difference between STARSHIP TROOPERS the book and STARSHIP TROOPERS the movie. The book is science fiction, a serious exploration of the concept of citizenship, meant to make you think. The movie--isn't. OK? My affinities are with the former. (My abilities may be more with the latter, but I try!) As for "kind" of SF, I write pretty much all kinds, though I'm best known for "hard" SF of the ANALOG type.
One of the stories here is fantasy.
Did it make you think? Did it make you cry?
So you write fantasy, too?
Says so right at the top of the page, but I do try to avoid the common cliches of the genre. To do an original fantasy isn't easy; to get it published, less easy. Thus, I do few fantasies.
I didn't think much of the second story either. No fights, no zooming spaceships, boring! Just a bunch of kids.
Did it make you think? Think about this: when do you expect to buy a ticket on a spaceship, much less stow away? Do we live in the space age?
Two of those kids have suspicious names.
See my bio, and the lio of Bill Wu.
The third story sure sounded like fantasy.
Jack Vance has been a major influence, especially on this series.
Your LOCUS commentary article made me mad.
You're not the first. I'm sorry; I only wanted to be helpful. Both SF and fantasy give me, at least, a different feeling from that which I get from any other kind of fiction. The feeling is very similar for SF and for fantasy, but for me, not quite the same. I wanted to explore why. And of course, like many better people before me, I was seduced by the attempt to codify the field. Usually this leads to a "definition" that satisfies only the definer. I attempted to show why no definition will work. We can only describe.
Are you gay or hetero?
Decidedly hetero, and so ungay that I'm downright glum at times.
Married, children?
Yes, and no.
So talk a little about your life, your work, and everything.
Read the bio, stories, and biblio for that....
Where can I meet you?
Good question. I never miss a ConQuest in Kansas City, but that may not be a good place to meet me, because I'm so taken up with old friends, some of whom I haven't seen since last year. You might have to make a special effort to cut through my happy daze. Now that I'm retired on a minuscule pension, I rarely go to other cons, alas.
What are "cons"?
Science fiction, comics, media (Trek & drek), gaming, etc. conventions. They all derive from science fiction cons; the term "con" dates from the 30s. An internet search will tell you much. Advice: go to a couple of regional cons near you before going to Worldcon.